Mako Autonomous Underwater Vehicle
Project Mako is a venture undertaken by the University of Western Australia to develop an Autonomous Underwater Vehicle (AUV) for entry into international underwater competitions. The project commenced in early 2004 and sought to begin development on mechanical, control, sonar, navigation, vision and communication systems for the vehicle. The 2004 team consisted of four final year students, Louis Gonzalez, Minh Nguyen, Daniel Lim and Evan Broadway, supervised by Thomas Braunl. Subsequent student teams have now worked on the Mako project and added to its mechanics, electronics, and software.
Equipment
Mechanics

Dual PVC hull construction, linked by aluminum frame

Controller

EyeBot M4 as main controller for sensors and actuators
Mini-PC for image processing

Sensors

4 sonars (echo-sounders)
velocimeter (flow current)
depth sensor (pressure gauge)
digital compass
QuickCam web cam
Leak sensors

Actuators

4 boating trolling motors

Communication (when surfaced)

IR remote
Bluettoth (EyeBot)
WLAN (PC)
Acknowledgements
Many thanks to the friendly people at Claremont pool for letting us use their diving pool facilities.
Thanks to Raytheon Australia for their initial sponsorship.
Thanks to DSPComm for donating an acoustic underwater modem.
Links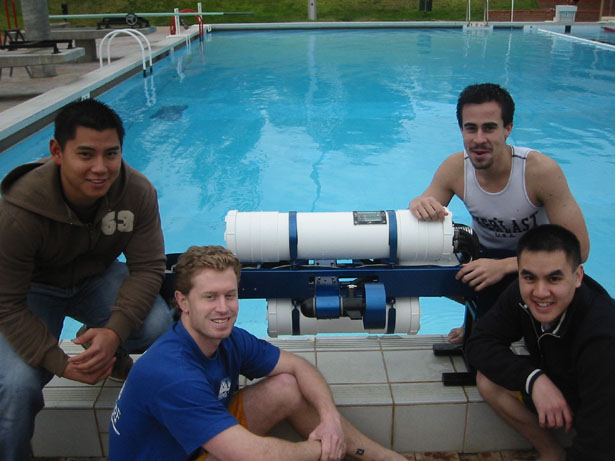 Thomas Bräunl, 2006