The University of Western Australia
Robotics & Automation Lab
Automotive Lab
---
See the official REV website at http://theREVproject.com
---
REV Eco. The first REV plug-in electric conversion project was started and completed in 2008. It is a four-wheel, five-seater commuter vehicle, designed for sustained performance over typical comutting distances, based based on a Hyundai Getz 2008 model. The car has undergone alteration install the electric drive motor, accomodate batteries, wiring, and instrumentation, as well as a suspension upgrade to handle the shift in weight distribution.
---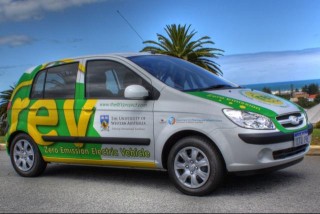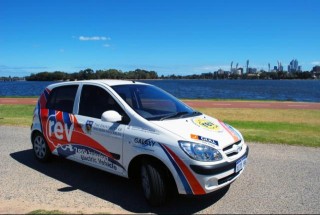 Project stage 1: March - May 2008: removal of ICE components , installation of electric motor, controller, batteries: drivable car
Project stage 2: Aug. - Oct. 2008: installation of electric power steering, electric brake assist, DC-DC converter, electric heater and air conditioning: road-worthy car (re-registered with WA's DPI).
Specifications:
---
See the official REV website at http://theREVproject.com
---